Bonjour 40: A Paris Travel Log, the print version, is now available on Amazon!! Oh la la!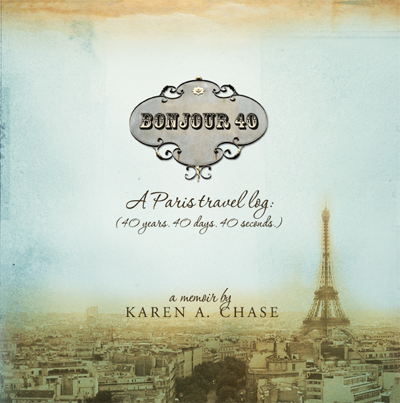 So many readers asked for it and it's finally here. After the success of the eBook and receiving an eLit award, I went out to find an agent and a traditional publisher. But then I got to wondering what kind of book they would make. What would it look like? What would the design feel like compared to my trip? I'm a professional designer, and we like things just so. After some searching and a lot of encouragement, I eventually gave in… no, stepped up, and said, "Karen, you can do this."
So I combed through the thousands of photos from the trip, and added in some new text. Then I went at it. Now it is 132 full-color pages, 8.5×8.5, with over 100 images. It feels more like a photo journal and a pictorial journey through Paris, but it still has my stories about a strange pillow and Bandit the dog.
If you loved the eBook, I hope the print version will be on your gift list–for yourself and others. Joyeux Noël.
For those who want to know how I produced the book, my process included:
~ InDesign for the page layout of the interior and cover.
~ Photoshop to crop, resize and color correct all 109 images.
~ Worked with April Michelle Davis to edit the copy in the new layout.
~ Opened an account through Createspace (Amazon's print self-publishing).
~ Submitted a PDF of my files and they sent me a physical proof.
~ Based on the size and page numbers, Createspace helped me set pricing.
~ Approve it all, and wait 5-7 days for it to hit Amazon.
A few of the inside pages are below. To see more, you can "Look inside" on Amazon.