My American Revolution manuscript has returned from my editor and I'll be giving it some attention in the coming weeks. While my blog posts may be a little less frequent, I hope you'll find them filled with more compelling information. This week, author Kelly Watts helps me out with a great guest post.
Kelly Watts moved to Australia a little over a year ago and just recently published her first book, "Sailing to Jessica," the true story of her four-year sailing adventure with her husband that took them nearly around the world…that is until they met their daughter on a remote Pacific Island.  Kelly…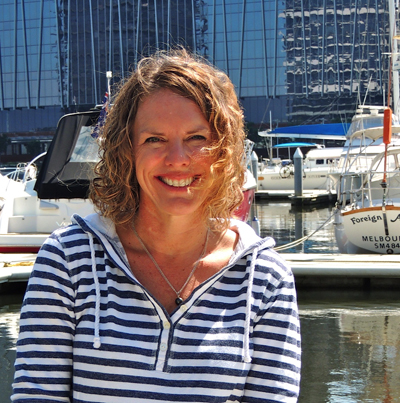 A Book Trailer: Worth the Effort?
"Where does that fit in your project plan?" my husband demanded when I announced that I wanted to make a book trailer. Paul is a project manager by profession and I had begged him to help me plan my work because I was overwhelmed. Just as the composition of a book includes many elements, so does a book marketing plan. I needed to create a website; put together my social media, as well as format and upload print- and electronic- versions of my book. Before Christmas. That gave me two months. Make a book trailer too? No wonder Paul thought I was mental!  But I had just seen my first book trailer, and it was COOL.
I had to have one.
What material could I use for my book trailer? While I had taken tons of photos on our sailing trip, I only had a handful of videos. Friends suggested holding up placards in front of the video camera, or having someone interview Paul and I. Ultimately I used variations on both ideas. I studied the movie trailer templates in Apple's iMovie as a guide. I purchased a single-purpose license for the music online. I whittled down my 289-page book into 50 compelling words and created my trailer. I tried not to spoil the story while setting the reader's expectations–a tough balance for a book that includes two very different reading genres, sailing and adoption.
Was it worth the effort? You decide. On December 16th, I posted my Sailing to Jessica YouTube trailer on my personal Facebook profile to my 200 friends and so did Paul. It was subsequently mentioned on two other blogs.  As of February 14th, the video has had 835 views and brought 1137 visits–935 unique visitors–to my website. I am new to this marketing game, but that seems pretty worthwhile to me…
. . . . . . . .
Today is also the last day of Kelly's Goodreads Book Giveaway. Enter to win a free copy of Sailing to Jessica and drift away with an inspiring story. 
Prior to writing her book, Kelly has produced and/or written articles for magazines such as Blue Water Sailing and Better Homes and Gardens. She also had a weekly food column in a couple of Midwest newspapers for several years. This is the first book trailer she has made.  "After writing and editing words on a computer screen for so many years, it was fun to combine photos, videos and music to create a visual story," she said. Her trailer will be a key component in her upcoming marketing efforts.