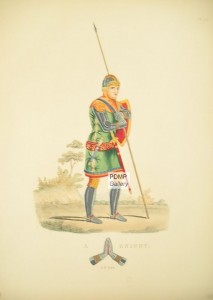 This week I was very happily visited by Andrew Eddy, a fellow writer from Provence featured in my book, Bonjour 40. While he was here we went to Charlottesville, visiting Thomas Jefferson's Monticello, and quite naturally, we hit an overwhelming number of bookstores. In a rare and antiquarian bookshop, I found a lovely copy of Ann Patchett's book What Now?.  Andrew and I went to the desk to pay, and both of us stood silent and mortified. There behind the counter was an owner of the store, with a knife in hand, slicing stone-engraved, hand-colored images of Medieval knights like the one above out of three antique books.
"It doesn't bother you cutting up old books?" I gently asked. The man just shrugged as he tried to rationalize his craft.  "It's not as if it's rare, dozens of colleges and bookstores have these… They're too expensive for people to buy now because no one collects books… If I can sell the images for $95 a piece, I make more than having a book on my shelf I can't sell… It's what I need to do."
I felt sad for the historians and future generations who will never see those books. I felt bad for the illustrations of the knights separated from one another, and from the words that explained them. I have an image of a book collector–ten, fifty or even one hundred years from now–cursing that stupid bookseller for tearing apart such a special book, as they struggle to recollect the images.
And what if it is rare? It reminds me of the story of the last man on Easter Island who cut down the last tree. It's what I need to do, he probably said. And then their civilization died, and they had no way to make books to explain themselves!
So there were Andrew and I on one side of the counter, knowing we are pouring time and energy into building books we hope will be cherished for generations, while on the other side the books of our predecessors were slaughtered for parts. Bottom line, it wasn't about the books, it was about bottom line. I think both Andrew and I would rather be on this side of the counter struggling to be brave knights creating, not destroying the words.
And as for that comment on the three books being rare, I'll let you be the judge. The set he was slicing up was from 1824. A collection on ancient armor. The sets range in price from $3000-$7500 on ABE Books.