Today on Compositions, we hear from Karen McCann, an American expat living in Seville and exploring Europe. Following a 6000-mile, 13-country train journey, she has just published Adventures of a Railway Nomad: How Our Journeys Guide Us Home. But as she reminds us, sometimes the best travel experiences involve a good armchair and a great read.
. . . . . . . . .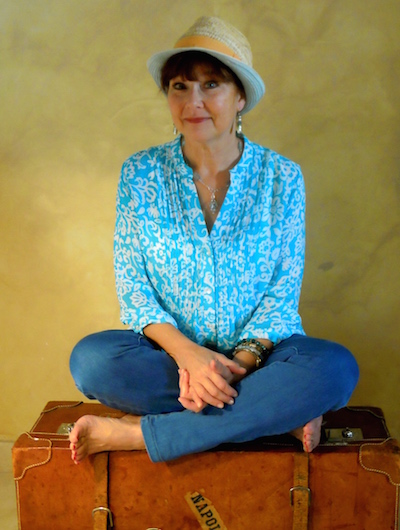 The Civilized Joys of Armchair Adventures
A great travel memoir gives us the exhilarating pleasure of exploring far-flung places in the company of a congenial and insightful companion — without having to put up with long plane rides, inclement weather, lost luggage, and worrisome food. Having visited places where it's advisable to shake out your shoes to dislodge scorpions and stay on perpetual lookout for leopards and electric eels, I deeply appreciate the civilized thrills of armchair adventures.
Books involve us in journeys we would never undertake ourselves. In Free Country we join George Mahood as he sets off on a 1000-mile journey penniless, without luggage, and nearly naked. He proves — via many uproarious detours — that you really can rely on the kindness of strangers.
As a young girl educated by a French order of nuns, I dreamed of living in Paris someday. Two delightful memoirs — Karen A. Chase's Bonjour 40 and Sarah Turnbull's Almost French — provide realistic yet enticing views of today's City of Lights.
Perhaps the best kind of travel memoir is one that enables us to see familiar surroundings with fresh eyes. Alain de Botton, who claims he actually enjoys airports, spent seven days at Heathrow writing about his impressions on a screen visible to passersby. A Week at the Airport is so fresh and insightful that I've actually had to rethink my aversion to air terminals.
"The real voyage of discovery," wrote Marcel Proust, "consists not in seeking new landscapes but in having new eyes." And that's something every good travel memoir offers us.
. . . . . . . .
You can follow Karen McCann on her blog or on the Enjoy Living Abroad Facebook page, too. Her book, Adventures of a Railway Nomad: How Our Journeys Guide Us Home is out now.