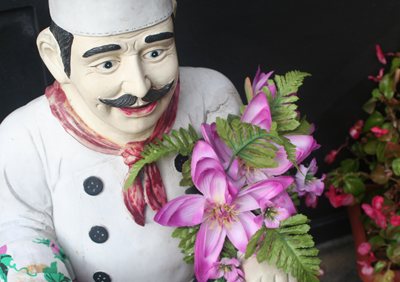 Paris has cafés and bread shops. New York has bagels and pizza. But there's a reason the world over loves Italian food. Italy has it all. Between the gelato shops, cafés, butchers, fisheries, and pasticcerias (pastry) it's enough to make you want to move there and fall face first into a pizza pie. Each Italian day also begins with a frothy, perfect cappuccino.
"How," I asked Ted, "are we going to return to American coffee?"
"We'll be ruined," was his only response as he gleefully picked up his cup. I love a man who knows he's headed for trouble and goes there anyway.
A meal in Italy begins with your eyes. Fresh ingredients hang from the trees–olives, grapes, limes, and lemons. Tomatoes and herbs are nestled in baskets and bins, artfully arranged inside spotless kitchens. Then ingredients are stacked, tucked or puddled into works of art like the fish soups that clunk into the bowl.
Along the Riviera from Cinque Terra to Genoa, the region is known for pesto. Made with tiny leaf basil grown in ancient salty air, it's a richer flavor than ours. They heap it onto hand-rolled gnocchi that makes you wanna die! North, into the Lake District, I swear the Perch comes right out of Lake Como coated in parmesan and lemon. Wine flows as cheap as water. However, feasting has consequences.
At the airport we weighed our bags and then ourselves. Despite our walking and all those stairs it was… well… Let's just say it was amoré.
Click to enlarge the photos.