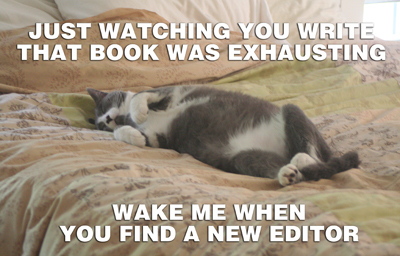 Last week a freelance editor who I have been working with for over a year, delivered bad news. She could no longer work with me because of larger projects with tight deadlines from publishers. I was nearing the end of editing, expecting a review of my rewrites on the first 50-100 pages only. It felt like I was getting divorced right before retirement.
I don't blame her–the work was better I am sure. But now the two weeks I had scheduled for her review, had become a week of interviewing new editors. Most asked to see the first 20–50 pages to provide estimates, and to gauge the quality. (They are all developmental editors looking for plot, characters development, POV, etc.). So I sent it and moped around waiting.
Then a funny thing happened.
The responses from the new editors–all of them entirely unfamiliar with my writing or story–came in. Glowing. One said she was hooked from the beginning of chapter one. Another replied, "I think your premise is ingenious, and your execution–from what I've seen so far–is remarkable. You are a dedicated, diligent, and detailed writer."
I don't say all this to brag (okay, maybe a teeny bit). I say this, because that setback  proved to be one of the best things for me.
Now I understand what my characters experience. Sometimes our stories take us to unexpected places. Perhaps it is through this adventure we find out who we truly are, and where we are going. Door closed, window opened.