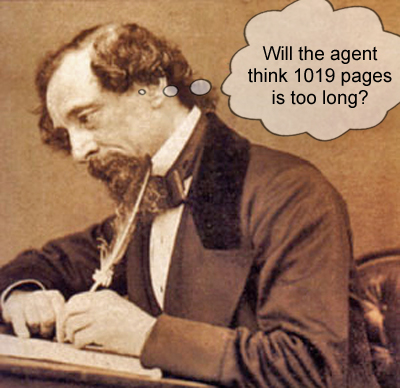 I have decided that querying agents is a lot like reading Dickens.
First, you must enter the process knowing it is going to take some time. Our book club read David Copperfield last year. 1019 pages! I hope I have the patience of my friend who read that whole thing on her iphone.
Second, there are pages and pages of characters. And you don't get to know much about them in the beginning. I query agents based on what I can find in Google searches and in websites like QueryTracker and AgentQuery. I have to be prudent and savvy. A couple of weeks ago I chose poorly. The rejection from the agent's assistant said readers already know "what really happened to the Constitution." Yeah… uhm… my book is about the Declaration.
Third, Dicken's dialogue is polite, even when things are going poorly. So are my rejection emails. "We wish you luck with finding a home for this intriguing work." That's so nice, but it leaves me feeling like Oliver Twist. "Please, Sir, I want some more."
Lastly, (and I hope this is true), a darn good ending is coming. I read Great Expectations many years ago, slogging through that thing for weeks. The ending left me stunned. The anticipation, and the unexpected ending with one person showing great character, made me rethink and appreciate all the writing that had come before.
So on I will go. Happily. I will revel in this moment. For this is the best of times. It is the worst of times.