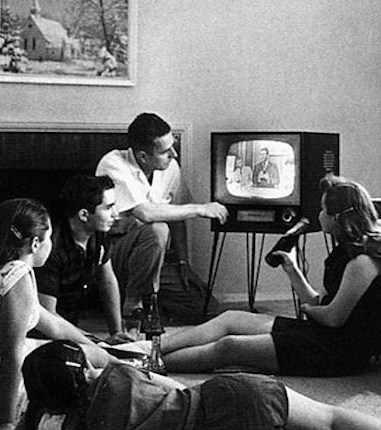 A few weeks after moving into an old house, an electrical storm killed our television. We considered not replacing it. Ultimately our decision came to this: We could either watch others have a life, or we could have one of our own.
We've been six years without a TV. And no, I don't regret it.
As Courtney Carver, of BeMoreWithLess.com, said, "Without TV, I eat less, workout more, save more money, have more creative ideas, write better stuff and have a better sex life!"
I also have more time to write.
According to Neilson, people my age (44) watch TV more than 33 hours a week (4+/night). For a writer–especially those with jobs, kids or other obligations–even an hour a night is more valuable than gold.
True, TV can sometimes feel like an escape. I get that. And in full disclosure, I do still watch some things. When the Oscars come around, I seek out bars or friends because I like sappy speeches and pretty dresses. My neighbors happily (graciously) agreed to watch Downton Abbey together. Over breakfast, Ted and I watch Jon Stewart from the night before (until he leaves in August).
When I'm old and more sedentary, I'll have reruns. But for now while I have books to write, I'll keep my furniture pointed at bookshelves. As Ben Franklin once said. "Either write something worth reading or do something worth writing."
Without TV, I've given myself time to do both.
Could you do it? Could you give up TV?