Below is the last chapter of Winter's Eve–a six part holiday story.
If you have missed previous pieces:
The First Gift ~ The Second Gift ~ The Third Gift ~ The Fourth Gift ~ The Fifth Gift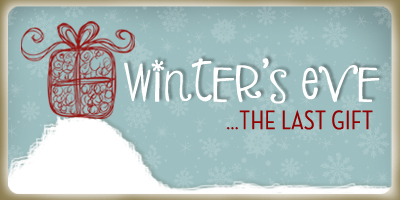 It was the night before Christmas. My sniffles had receded, but my worry had deepened. Morning would bring my granddaughter one tiny doll; something to hold, but not enough to replace all she'd lost. She sat with me as I made our hot cocoa.
"Where's the cinnamon?" I asked. A knock at our door interrupted her reply.
When I opened it, Charley bounded in. Doc Blue came holding Miss Paige's hand and a book. Then came Mrs. Mittens carrying scarves. Miss Rose brought colorful bows. Mr. Crumb presented a cinnamon spice pie. "Thank you for bringing us together," he said. They all looked past me to my granddaughter.
"It was you?" I saw her anew. Despite having lost the most, she had thoughtfully saved coal for weeks, ribbon for months, shared cinnamon and a story.
She nodded, "I thought it was better for all to be warm than some too hot, or too cold… Not everything cherished comes wrapped in ribbon… The green in our hands can be woven for others… Friends add spice… Books provide great adventures… Better to love another than a fairy tale."
All night we rejoiced together, feasting and reading by the fire. Our home, once again full. As she nodded off in my lap, my granddaughter whispered, "A family isn't given, Grandpapa. It comes from giving."
Happy Holidays.
Wish granted.
…And so it was we all received the last gift. On this magical Christmas night, in our mountaintop village, Winter. From my granddaughter. Eve.
. . . . . .  The End . . . . . .
Happy Holidays to you all.
See you again in the New Year.